In this year's edition of the Prix Eiffel International Invention Competition, the jury representing both science and industry awarded a gold medal to the proMOVE invention of the Motor Transport Institute.
proMOVE is a multifunctional attachment for orthopedic equipment dedicated to pedestrian road users, developed at the Motor Transport Institute by Aneta Wnuk, PhD, Beata Stasiak-Cieślak, PhD, Dagmara Jankowska-Karpa, PhD and Piotr Malawko, PhD.
The development of the prototype of the attachment is part of the statutory work of the Road Safety Centre and the ITS Diagnostic and Maintenance Processes Department and is entitled: "Development of solutions dedicated to pedestrians using orthopedic crutches in the context of researching the needs of this group of road users in terms of the availability and functionality of elements supporting their movement and improving their mobility and safety".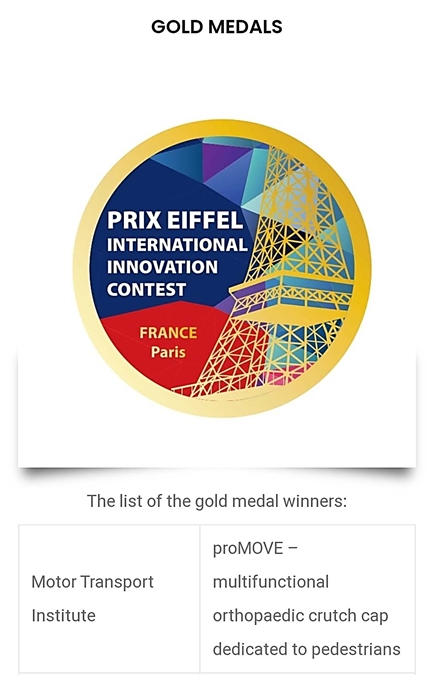 The Prix Eiffel International Invention Competition takes place in Paris, France - the cradle of innovators and technological thought. The patron of the Prix Eiffel Competition is Gustave Eiffel, an outstanding innovator and draftsman, a leading figure of the industrial era in Europe and in the world, the creator of the Eiffel Tower, which has become a symbol of Paris.
The organizers of the competition are the French Federation of Inventors, the French Association of Inventors Europe France Inventeurs and the Haller Pro Invention Foundation. The competition takes place twice a year. In the autumn session, it took place on November 15, 2022.
The chairman of the jury is Philippe Couperie Eiffel, a descendant of the competition's patron and honorary chairman of the EFI and FFI associations. The Presidium includes Gérard Roquillon, President of the Federation of Associations of French Inventors; Patrick Herbault - President of Europe France Inventeurs and on the part of Poland prof. Krzysztof Biernat.